Post by eric on Feb 29, 2012 15:09:42 GMT -5
I have built a 7AGE and I get questions about it all the time. I researched and learned everything I could before I built it so it would go smoothly. So here are some questions people have asked me, or questions I have asked.
What is a 7AGE or 7AC? This is a hybrid using the bottom end from a 7afe and the top from a 4AGE or 4AC.
Why 7A anything? 7afe engines are the same as any other A-series engine, except the block is taller, 15mm specifically. This extra height translates to a longer piston stroke, which translates to a larger displacement. All 4A engines are 1.6L, but the 7A is 1.8L. So bigger is better.
Where do I get 7AFE? The 7AFE was available in a couple cars in the early and mid-90's. Celica, Corollas, Geo Prizm. The easiest way to identify a 7A from a 4A is the 2-piece oil pan. 7AFE's have a upper aluminum stiffener plate and a small stamped steel oil pan, all 4A's just have one pan.
What head fits it? All A-series heads will bolt straight to a 7A block. There are some differences in the size and angle of some water and oil passages, which can easily be modified to match up.
What internals do I use? Since the 7AFE has a stroked crank, you have to keep using that crankshaft. Also, you will have to keep using rods for a 7AFE. Both Spool and Belfab make fancy upgrade rods for this exact application, which is real cool. Since the crankshaft is a 6-bolt rear, you can't use the 8-bolt flywheels from a 4AGE. For RWD fun, you'll need a flywheels from an SR5 4AC. Pistons are a different. All A-series engines have the same bore, meaning you can drop in whatever pistons you want, just try to match the pistons to the head. 20v to 20v, 4AC to 4AC, you know. The standard rods in a 7AFE have 20mm wrist pins. The last generation MR2 4AGE pistons are 20mm pins, whereas most early ones are 18mm. Now the aftermarket option rods are available in either size so you can party on with whatever pistons you want.
What mounts do I need? You simply transfer your mounts from your old engine. All of the bolt holes on the sides of the blocks are all the same. The only external difference is the height of the deck, and all of that added height is above the water pump.
Do I need adjustable cam gears. Yes. Some people say you might not, but your timing will be off 4 degrees at the cams because the length and angle of the belt puts TDC in the middle of a tooth on the belt where it needs to be a groove.
What belts do I use? The added height effects the timing belt only. You will need a longer belt than stock. I gaurantee the timing belt from a 1986 Porsche 944 will fit a big port head on a 7A block. 20v and 8v heads I don't know for sure. The accessory belts will all be the same. If you have RWD 4AGE water pump and alternator, then keep using that belt. You will need to match the timing belt drive gear to the cam gears. The cam gear and timing gear on the 7AFE are massive and will never time on any other engine.
What pullies do I use? You use the pullies for your application. RWD/FWD 16v 20v 8v, all of their accessories and subsequently pullies are interchangable. So just make sure you use a matching set, as FWD and RWD belts are offset differently.
What transmissions do I use? Whatever you need. The back of the engine is still the same as any other 4A engine. So if your transmissions came off a 4A, it'll go on a 7A. Just make sure you get the matching dust cover if you're doing any other conversions. The extra height is all above the bellhousing bolts.
Will this pass smog/inspection? If you're a nerd and live in California, you can still do this. The only difference outside of the engine is the height and 2-piece oil pan. Nobody will notice that, unless you're in the middle of a dozen Corollas with the standard engine. It will not affect your emissions.
Pictures. 7AFE block. Looks just like any other 4A block, but it's magic.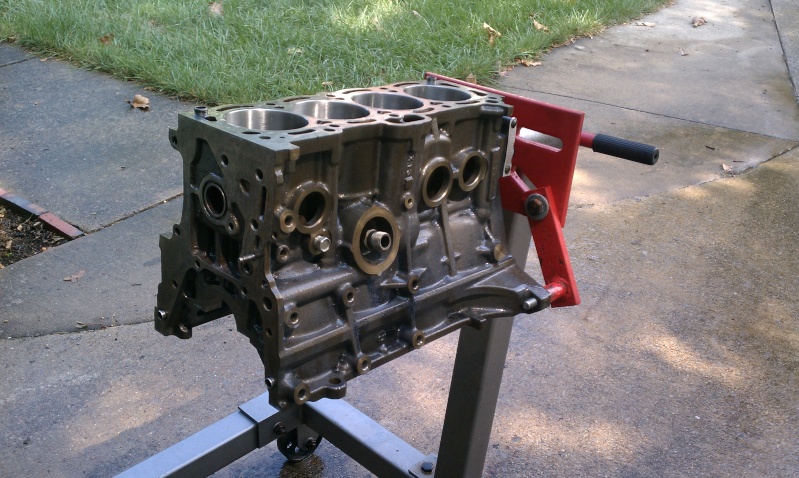 4AGE head, RWD accessories, Porsche timing belt, RWD mount brackets installed. Note the 2-piece oil pan.